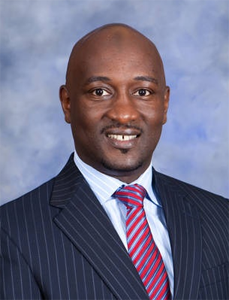 Why Practice in South Texas?
"I wanted to work and live in South Texas because of the rich culture and heritage of its people and to learn the Spanish language and Mexican-American culture.  The area also presents also immense potential for growth and opportunity in pure Texan Pioneering Spirit and in advancing quality health care."
Dr. Thiendella Diagne, OB-Gyn
Our Goal
"The most important thing we do in my office is to listen to our patients and support them along their prenatal and gynecological care journey." "Our job is to help women feel better mentally, physically and emotionally, and steer them towards successful pregnancy and gynecological outcomes."
Dr. Thiendella Diagne, OB-Gyn
Dr. Thiendella Diagne is a board-certified physician in Obstetrics and Gynecology. In 2008 he completed a 4-year internship and residency at Eastern Virginia Medical School (EVMS) and training at The Jones Institute for Reproductive Medicine in Norfolk, VA. Upon completion of his training, he continued into private practice in Norfolk, for three years. He earned his medical degree at Ross University in Roseau, Dominica; Master's in Healthcare Administration from the University of Maryland; Bachelor's science in Biology from Frostburg in Maryland. Dr. Diagne has built in the last 8 years a solid reputation in the South Texas/Valley medical community dedicated to providing the highest level of individualized and compassionate care to all of his patients. He is proficient in English, French, and has good understanding of medical Spanish. He is culturally sensitive, enjoys providing quality obstetric and gynecological care, and looks forward to meeting you and addressing your ob-gyn medical needs.
Schedule an appointment, call 956-800-4378 or Request an appointment online TODAY!
Areas of Interest and Specialization
His research interests are in management of high-risk and normal pregnancy, nausea/vomiting in pregnancy, obstetric hemorrhage control, and minimally invasive treatments of abnormal uterine bleeding, uterine/ovarian masses and endometriosis. These are achieved through state of the art comprehensive treatments including classical well-proven methods of vaginal and abdominal surgeries and cutting-edge hysteroscopic, laparoscopic, laser, and Da Vinci robotic surgeries.
Hospital Affiliation in South Texas
Dr. Diagne is an attending physician at McAllen Medical Center and Edinburg Regional Hospitals and at  Rio Grande Regional Medical Center. He also teaches UTPA students as well as the Medical Residents at MMC.
Awards & Recognition
Top Resident Award in Reproductive Endocrinology and Infertility 2007
Top Honors in Teaching Medical students and residents at EVMS
Humanitarian Services (Missions)
He has led medical humanitarian missions in Senegal, Guyana and was decorated for invaluable services for his participation in the relief efforts after the Haiti Earthquake in 2010
Associations/Organizations Affiliations
Community Services
Dr. Diagne has been invited by many civic organizations including the Rio Grande Hispanic Chamber of Commerce; Cornerstone regional Hospital; South Texas Health System. He has been also invited to share his knowledge and experience with his Alma matter Ross University and Eastern VA Medical School.